When dogs develop phobias to specific noises (gunfire, thunderstorms, fireworks) it can become a debilitating problem, drastically affecting the dog's temperament. Unfortunately, most dog owners inadvertently do the exact wrong thing and reinforce the problem.
Master's Voice Canine Training Systems have successfully cured and prevented gunshyness, noiseshyness, and calmed dogs of various ages and breeds since 1986. These unique audio training systems for dogs are based on proven behavior modification and desensitization methods long used to cure human phobias.
You can be your dog's own animal behaviorist to cure their fear of thunderstorms, gunfire, or fireworks. Training takes just a few minutes a day, with results in three to six weeks!
"You'll no longer have to drug your dog or swaddle them in weighted jackets every time there's a thunderstorm or a fireworks celebration.
Your dog will be cured and free to finally enjoy those dog days of summer (and so will you)."
MELISSA BURKLEY Ph.D, PSYCHOLOGY TODAY
"I tried all the traditional gunshy cure methods and nothing worked. The Master's Voice system cured my dog's gunshyness easily and quickly."
LARRY MUELLER, OUTDOOR LIFE MAGAZINE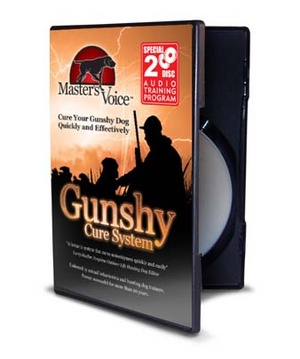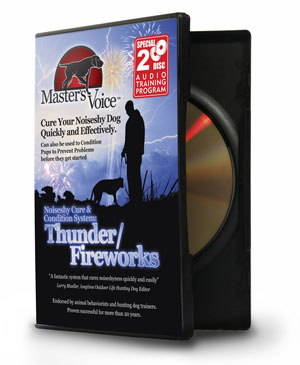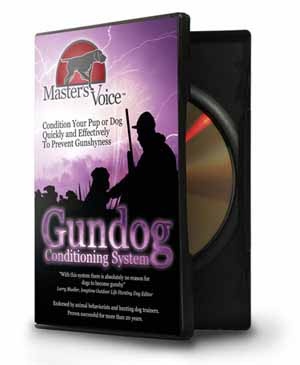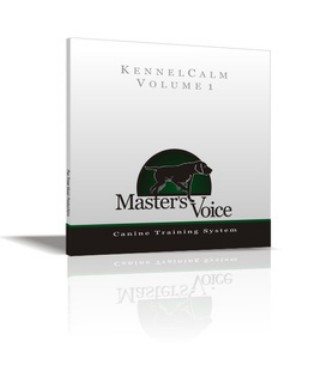 "Both CDs have been a huge success! I started using your CD on Fireworks two weeks before the 4th and moved through the steps very quickly. I played them quite often in my car on a daily basis and by July 4 the Fireworks didn't even phase him! Then I started the Shotgun noise program and in two weeks was using a dummy launcher and a week later a shotgun. Rusty's reaction to shotgun blasts now are met with excitement and eagerness for the hunt. Thanks, from a very happy customer."
Frank Lucci
CUSTOMER
Approximately two years ago my dog, Gina Pearl, began getting very shy at loud noises. We have some farm land nearby and occasionally there are gun shots fired from them. She became so afraid that even less loud noises started scaring her. The kid across the street on his skateboard scared her. I didn't know what to do. So I googled it and saw your product.
I followed the instructions to the letter and she is cured!
Linda Hudson
CUSTOMER

I have a young male brittany that was extremely gunshy and I tried several different training techniques to break him. He is blessed with a wonderful nose and I was at my wits end because I did not want to give up on this dog... I followed you directions to the letter and also incorporated it in the ride out to the training area where I work the dogs. After the ninth session, the dog was actually falling asleep listening to the recording. Your product cured him. He has the potential to be an extraordinary dog. I would highly recommend your product as a cure and also as a great way to get a puppy accustomed to the sound of gunfire.
Jim Rocole
BIRD DOG HUNTER

"I get so much great feedback from my families about what a help it is to calm their pups as the crate training begins in their new homes."
Gayle Kohnen
DOG BREEDER